I. Augmented Reality - In development
Robot Sea Monster https://robotseamonster.com/ has designed a product to link mural images to multi-media files without having to download an app.  Check back for Proof of Concept.
Concept:
user scans the mural
interactive AR engagement; videos, animations, sounds, etc
user clicks "about the mural" > can favorite > send to a friend
user clicks "about the artist"
user clicks external sites provided by the artist and/or platform
user clicks > maps of other murals > guide to getting to another site

Video of Augmented Reality Trials- Linking mural imagery to videos
Concept using Unity www.unity.com
Off the Walls uses website technology HTML, CSS, XML, CGI, and HTTP
II Example of Augmented Reality: Current Phase
Oakland Palestine Solidary Mural, 26th Street–between Telegraph and Broadway, Oakland CA
Mural organizers Estria Foundation , Art Forces  and NorCal Friends of Sabeel.
1. Call the Wall
510-269-8333
ext 11:     Nidal El Khairy
ext.12:    IROT
ext. 13:   VYAL
ext. 14:   Emory Douglas
ext. 15:   Chris Gazaleh
ext. 16:   Erin Yoshi
ext. 17:    Deadeyes
ext. 18:   SPIE
ext. 19:   Susan Greene
ext. 20:  Dena Matar
2- QR codes that link to website and video and phone number to call the wall are listed every 20 feet on the wall.
III.  Example- Concept Virtual Reality tours
Between 17 and 18th Street and Mission and Valencia, SFCA
Over 700 murals created since 1992
CAMP has supported  over 500 artists
CAMP receives over 200,000 visitors annually
CAMP  collaborates with neighbors and community partners
CAMP works actively to support  social, economic, and environmental justice
Sample Virtual Tours- Current project proposes to build on tours such as ones below- adding multiple layers of data.
IV. Data Visualization and Mural Mapping
Example:  Murals at San Francisco State University
Click on each mural location marker to get a window with information.
The current project will expand upon this concept– offering a more 'thick' description of each mural site and mapping murals throughout the Bay Area.
V. Content Example: Concept
Current proposal will accomplish this without downloading an App.
Oakland History Project http://www.oaklandhistorymurals.com/about-this-project.html
This project combines vivid mural art and rich Oakland history by harnessing the power of the app, HP Reveal. With a smartphone or tablet visitors at the mural site, can use the app to digitally scan the mural text panel and view videos that offer glimpses into Oakland's past.
If you cannot make it down to Jefferson and 11th Street in downtown Oakland, you can enjoy the experience right now!
Simply download HP Reveal from your app store. Once open, use to search tool at the bottom to find "Oakland Mural Project".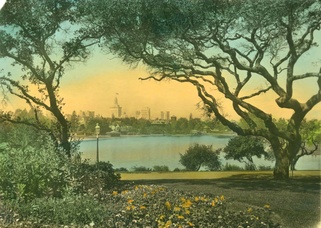 Then follow our project. You're all set! Now with the Aurasma camera open hold your device over the image of Lake Merritt to the right and suddenly our "Aura" will appear. This Aura is fully interactive, just tap on the mural of your choice to view a two-minute historical video.
Oakland History Mural Project by:
Dr. Linda Ivey
Associate Professor of History at CSU East Bay


[email protected]
Michael Burton
Web and Aurasma Engineer
Public History MA Candidate CSU East Bay


[email protected]