ROUGH CUT: ReVISIONS
ReVisions: Black and Brown Resisting State Violence ~ Commemorating Palestinian Prisoners Day. Art Exhibit opening First Friday, April 3
test
ROUGH CUT: REvolution is LOVE
Revolution is Love @ Uptown Body and Fender. Valentines Day Celebration
Debke and Queer Tango dance at the Mural, performance by Young Gifted and Black. Art exhibit of economic activism.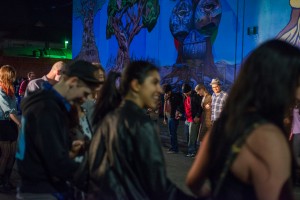 Event Schedule 2014
September 5th | 5:30 -9:30 PM
Opening for "From Oakland to Palestine"
September 18th | 6:30-10 PM
SHOOTING BACK~ RESISTANCES AND MEDIA
Exhibit, Silent Auction and Films with popcorn
• Leila Khaled – Hijacker
Directed by Lina Makboul, 61:00, 2006,
• Documentaries by Media Ain, Video collective in Gaza.
• Block the Boat
Pablo Serrano, Alex Saffron, Documentary on recent Port of Oakland Action
• Gaza Island
John Greyson, 5:39, 2011
• Show us Your Moxie, Morgan and Jian
John Greyson, 2:34, 2013
October 3, First Friday
Event Details TBA
October 4, Saturday Stroll
12-2pm
Family Activity, Details TBA
October 8,
Panel on social/new media, art and activism.
Panelists include: Kara Q. Smith; and Roula Seikaly.
Details TBA.