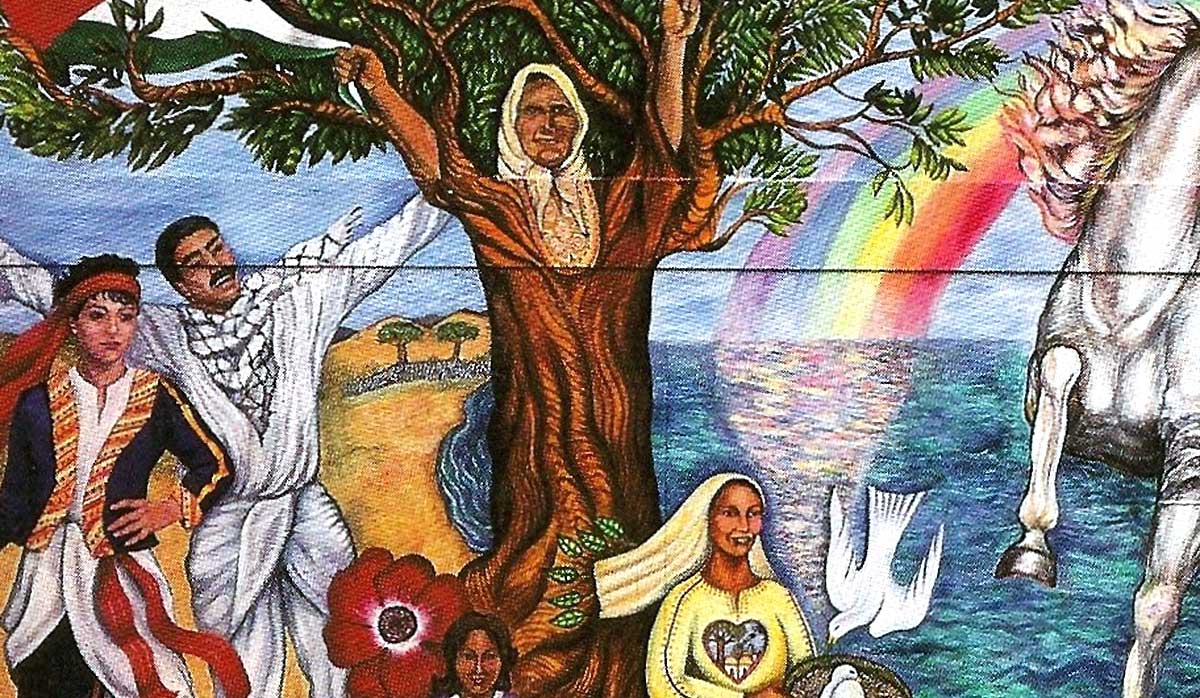 Our Roots are Still Alive, SF CA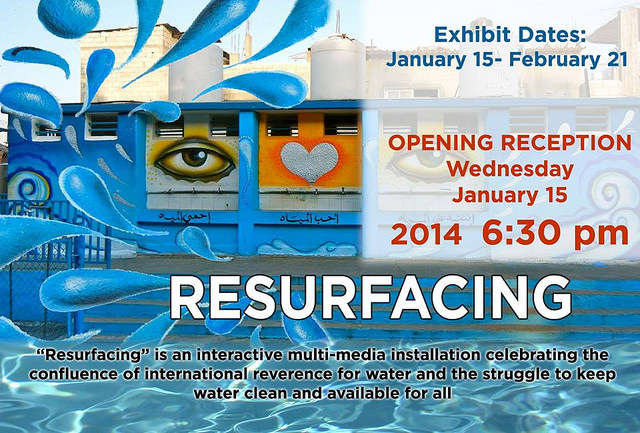 Mapping Environmental Justice, Exhibit, SF CA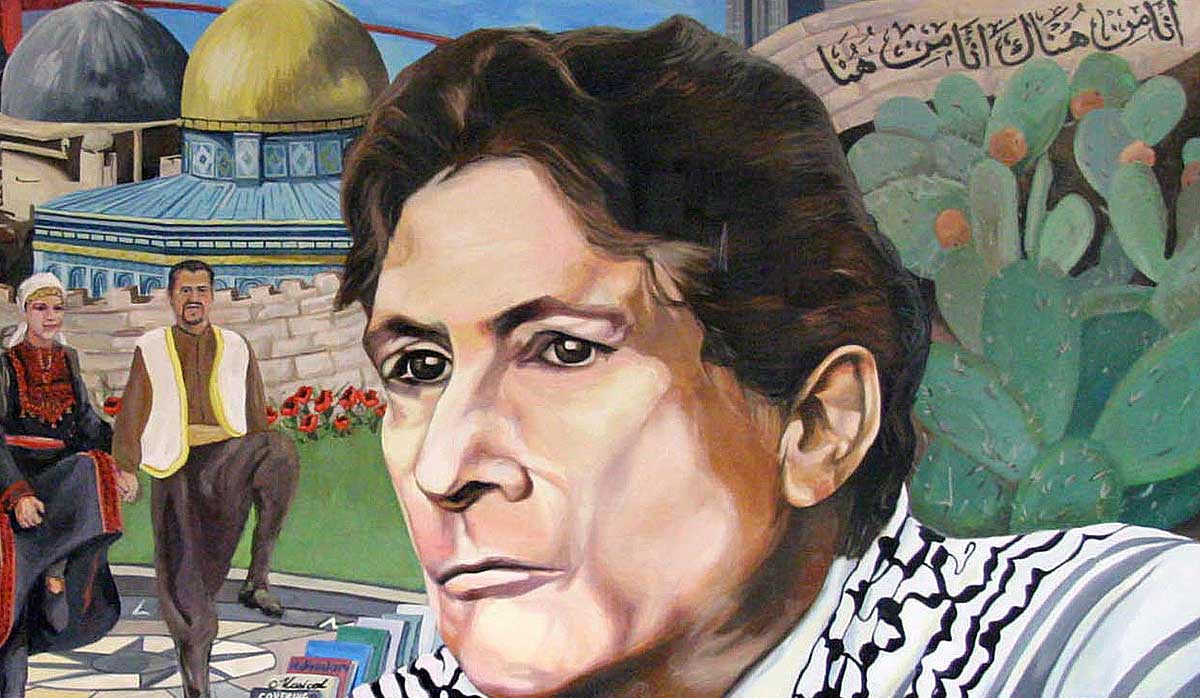 Edward Said Mural, SF State U, SF CA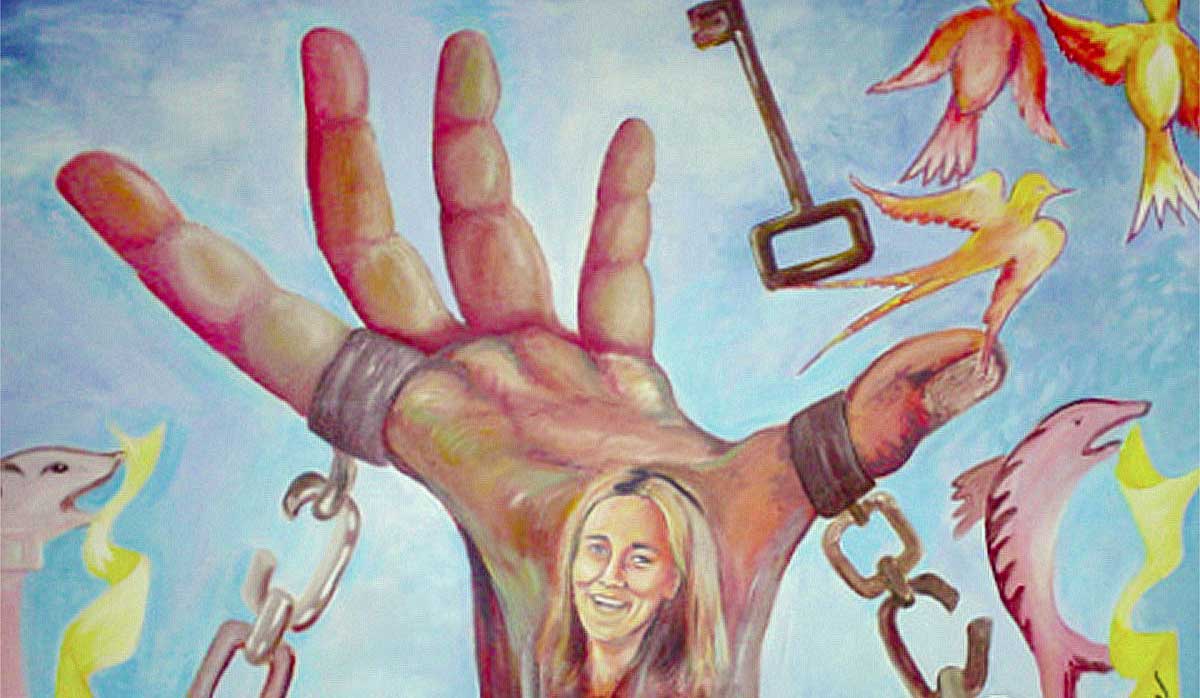 Rachel Corrie Youth Ctr, Rafah, Gaza Strip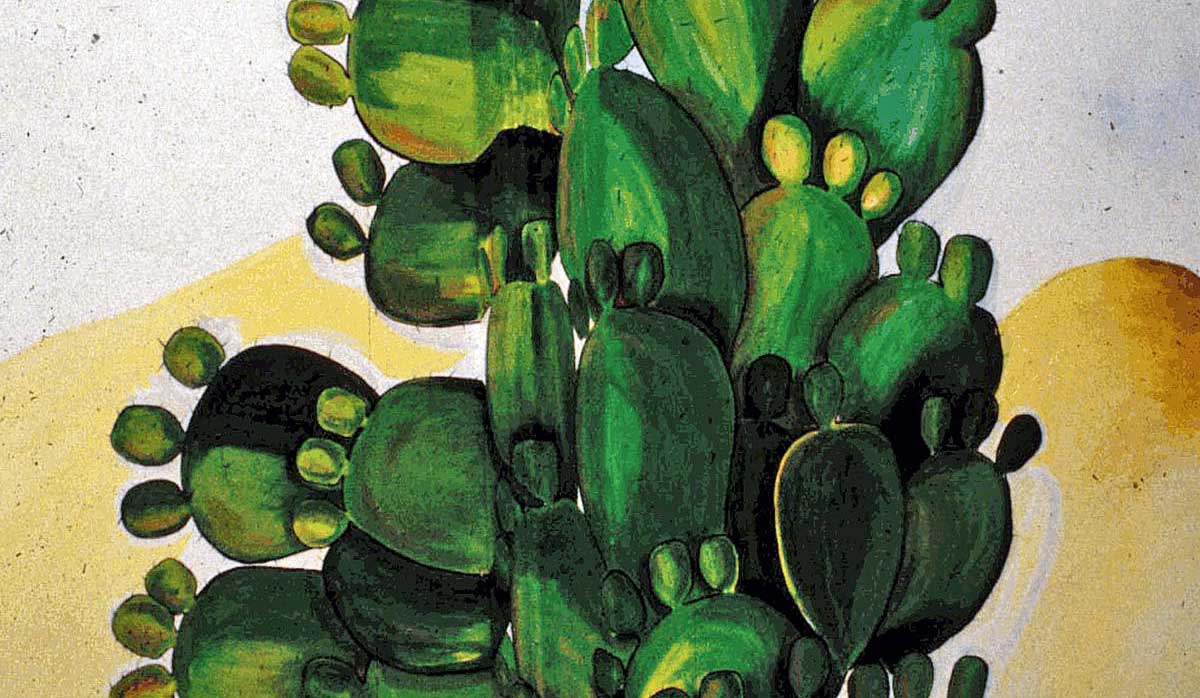 Popular Arts Center, El Bireh, Palestine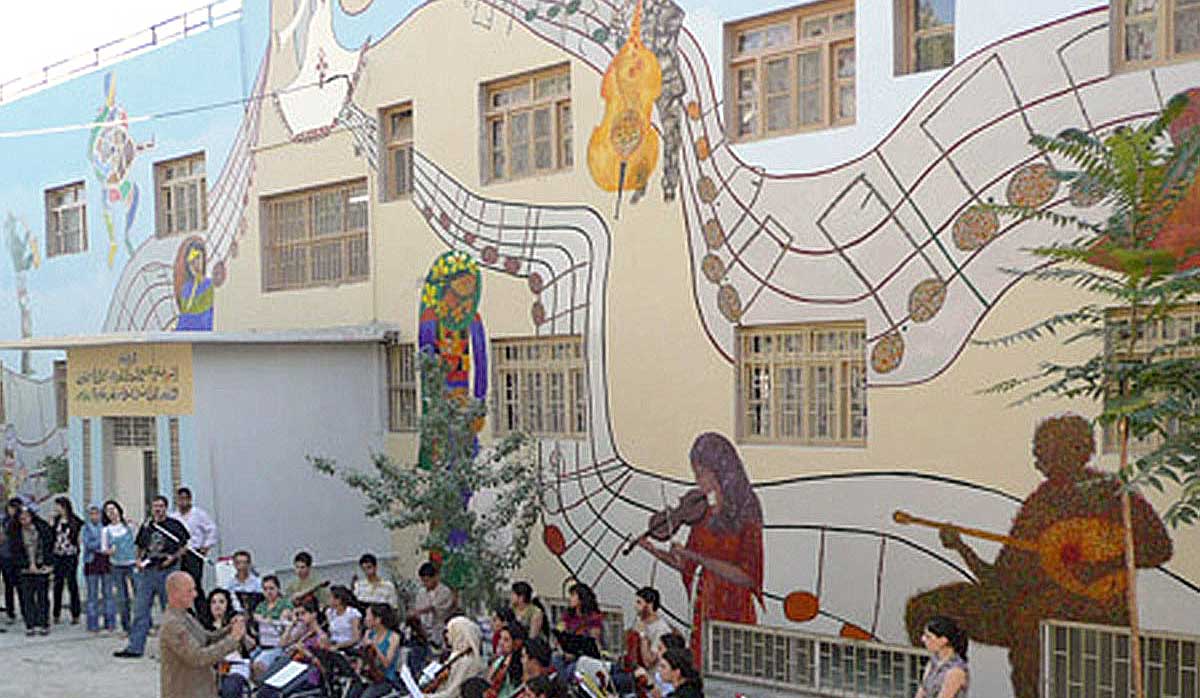 Edward Said Conservatory, Bir'Ziet, Palestine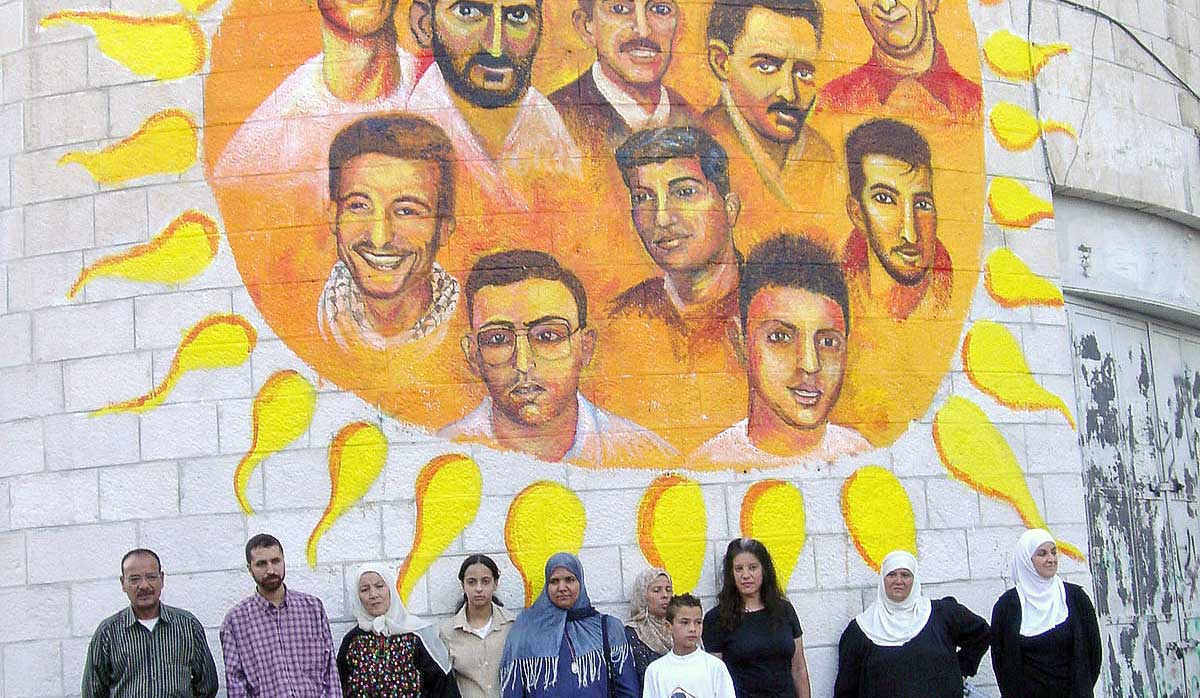 Sons of the Sun, Ramallah, Palestine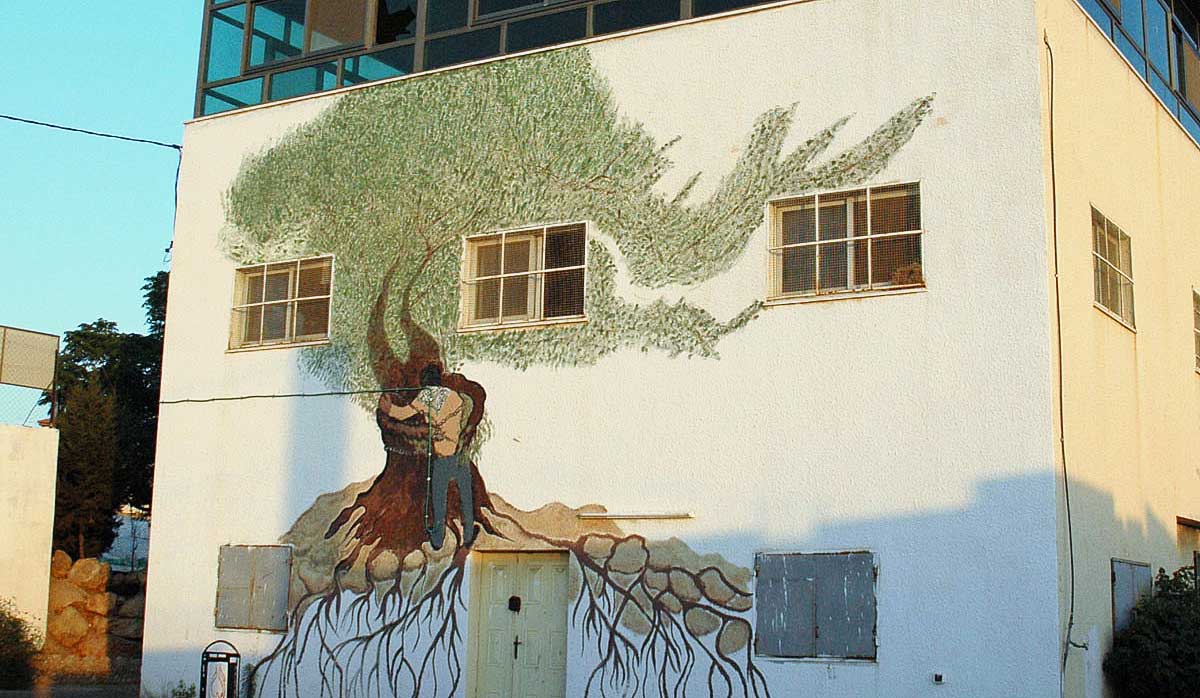 Bi'lin, West Bank, Palestine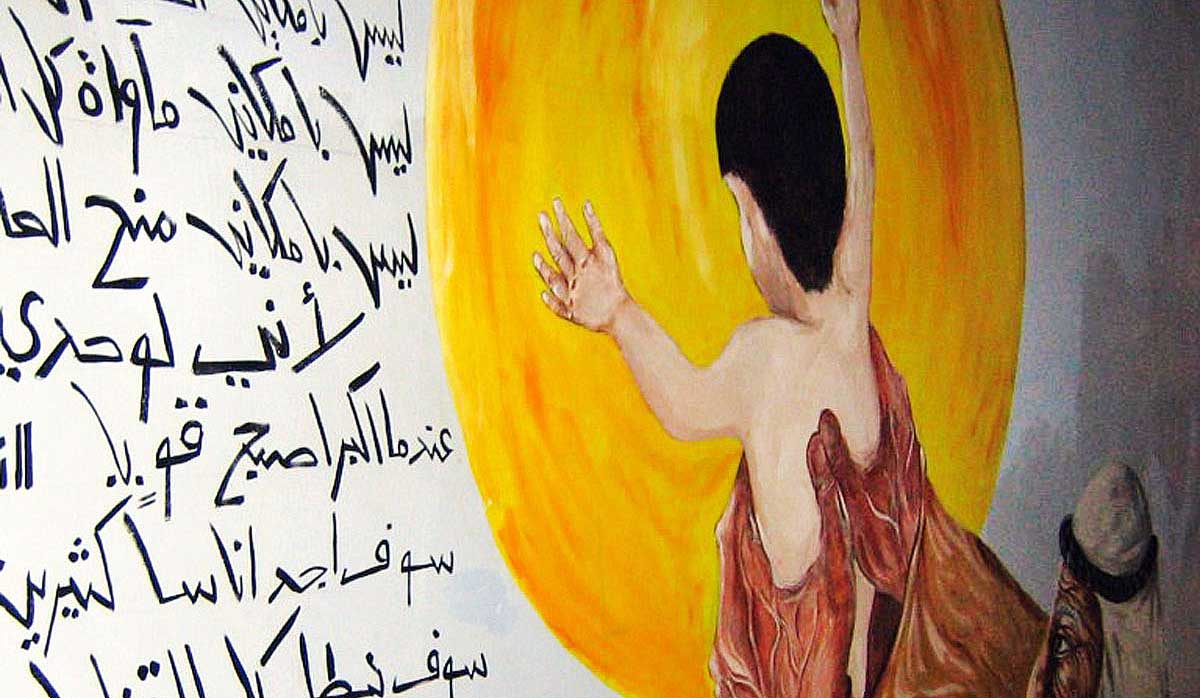 D'heisheh Refugee Camp, Bethlehem, Palestine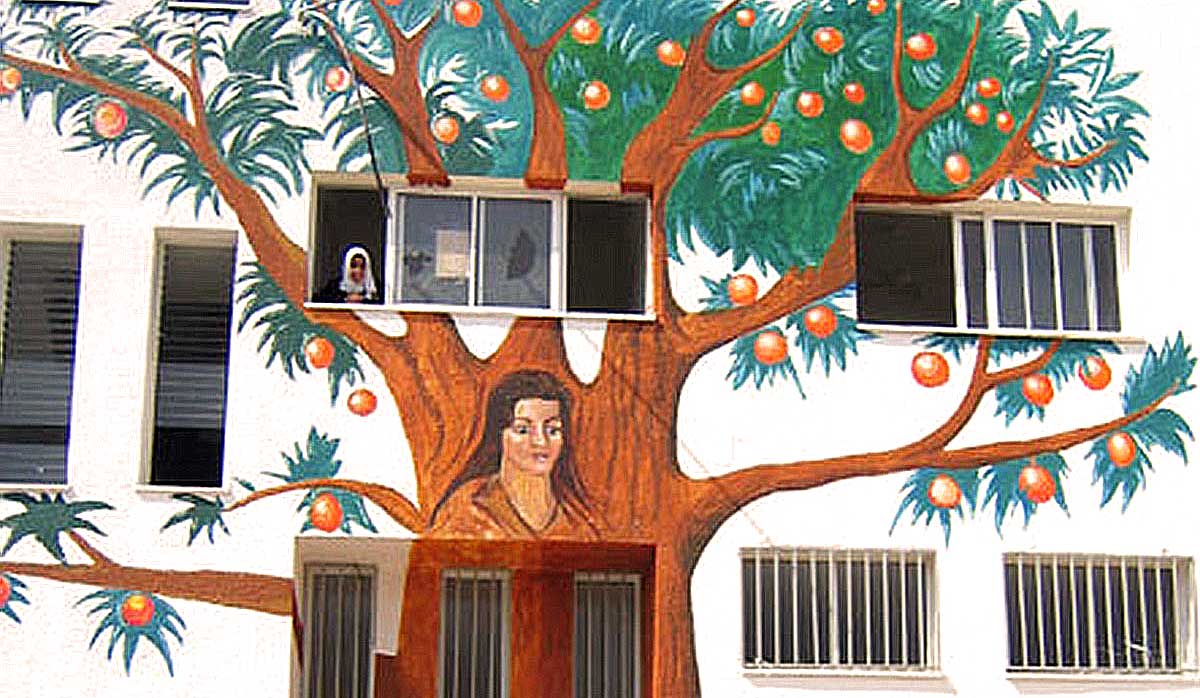 Remember the Orange Trees, Beit Hanoun, Gaza
Our Roots are Still Alive, SF CA

San Francisco CA 1990 After returning from three months living and working in Palestine BTS focused on fulfilling its mission of bringing back information about Palestine to the American public. BTS painted a mural locally about the situation for Palestinians living under Israeli occupation. BTS made links between Palestine and the life of refugees everywhere particularly in the Mission neighborhood of San Francisco, long a haven for refugees the world over. This mural was covered up in 2001 because of constant and increasingly virulent attacks, coupled with the city's inability to protect it. BTS hope to be able to uncover and rededicate the mural when Palestinians and all oppressed people have justice.

Mapping Environmental Justice, Exhibit, SF CA

"Mapping Environmental (In) Justice" is Art Forces' ongoing investigation into the global dynamics of precarity, societal instability and violence, environmental destruction and creativity. "Resurfacing" is a curation of this work. R E S U R F A C I N G Art. Activism. Mapping Environmental Justice. Mission Cultural Center for Latino Arts January 15 -February 21, 2014 Between earth and earth's atmosphere, the amount of water remains constant; there is never a drop more, never a drop less. This is a story of circular infinity, of a planet birthing itself. ~ Linda Hogan, Chickasaw We live within multiple layers that are hidden from view; layers of history, stories, cultural movements and geography. Using the stories, poetics and politics of water, "Resurfacing" interrogates global environmental systems and the ways in which they are culturally and socially produced, supported, resisted and transformed. "Resurfacing" is envisioned as an inter-disciplinary interactive exhibit, project-space and conference. "Resurfacing" maps parallels and connections between seemingly distant locations and issues; and aims to create and support relationships and production that will develop beyond the length of the exhibit.

Edward Said Mural, SF State U, SF CA

San Francisco State University 2007 Edward Said was a Palestinian Arab-American academic, educator, writer, philosopher, thinker, scholar, civil and human rights activist. His writing is an inspiration for Arab Americans. His activism for human rights, justice, and a peaceful solution to the Palestinian-Israeli conflict is also an inspiration to millions of people around the world. He was one of the greatest thinkers and scholars of America in the 20th century because he broke down the stereotypes of "Orientals" that have been perpetuated for hundreds of years. Said is wearing a Palestinian headdress or scarf (Kuffiyya, or Hatta), which is a cultural garment that has come to symbolize the struggle in maintaining and preserving Palestinian identity.

Rachel Corrie Youth Ctr, Rafah, Gaza Strip

Rafah, Gaza 2005 In the summer of 2005, Break the Silence in Gaza was Susan Greene, Sara Kershner and John Halaka. With the support of the Rachel Corrie Foundation, MECA and Gaza City Mental Health Program, BTS traveled to the town of Rafah to paint a community mural that would honor Rachel Corrie and the cause for which she lost her life. In 2003 Rachel was working in Rafah with the International Solidarity Movement, www.palsolidarity.org, and was run over by an Israeli driven bulldozer as she tried to prevent the demolition of the home of a Palestinian pharmacist and his family.

Popular Arts Center, El Bireh, Palestine

El Bireh, Palestine 1989 BTS' first community mural in Palestine is in the Popular Arts Center in El Bireh, Palestine. Painted in collaboration with members of Al Funoon. BTS members lived under military occupation with a family in a refugee camp. This two-story mural hugs a flight of stairs and celebrates Palestinian culture and solidarity.

Edward Said Conservatory, Bir'Ziet, Palestine

Town of Bir'Zeit, West Bank, Palesitne

Sons of the Sun, Ramallah, Palestine

Quadra Refugee Camp, Ramallah 1989 Painted by Eric Drooker and Susan Greene, with community of Qadura refugee camp. The K. family in Qadura refugee camp, where BTS first stayed in 1989, asked if we would paint a mural that would commemorate the people from thecamp who had been killed in the first and second Intifadas or uprisings. (Intifada is an Arabic word meaning to 'shake off') The word "martyr" is defined by anyone who is killed due to the occupation. Therefore, for example, a woman who dies in childbirth because the Israeli army will not allow her to pass to the hospital is considered martyr, as would someone killed by a stray bullet, etc. In this case all of the martyrs of the camp were unarmed when they were killed in situations including: demonstrations, detention, and an 'accident' where one youngster slipped off a building being chased by Israeli soldiers.

Bi'lin, West Bank, Palestine

June 2, 2008 Since 2005, the people of Bil'in have been leading protests against the construction of the Wall in their village, with participation from Israeli and international activists. The construction of the Wall has resulted in the de-facto annexation of 2,400 dunums of land (600 acres) - over 50% of the land belonging to the village facilitating massive Israeli settlement expansion east of the Green Line. The 3rd Annual International Conference on the Joint Popular Struggle. The image chosen for the Conference is a cartoon by Palestinian cartoonist Naser Al Jafari that appeared in Al Quds newspaper after an action in which the people of Bil'in chained themselves to the olive trees, that were slated to be uprooted (for a video of this action click here). It shows the tree and protestor in an embrace.

D'heisheh Refugee Camp, Bethlehem, Palestine

D'heisheh Refugee Camp, Bethlehem, West Bank 2001 A four-story mural produced in collaboration with the Middle East Children's Alliance (MECA), in the Ibdaa Cultural Center in Dheisheh Refugee Camp in Bethlehem. The mural hugs four flights of stairs and tells a history of Palestine, one era per floor, ending with hopes and dreams for the future. The Ibdaa Cultural Center is a grassroots community-based project in the West Bank'sPalestinian Dheisheh refugee camp. The name, "Ibdaa," (ابداع) is translated from Arabic as "creation" or "creative ability" – "To Make Something Out of Nothing." Since being founded in 1994, Ibdaa Cultural Center, with long-time partner the Middle East Children's Alliance, has served more than 1,200 children and youth annually and provides employment and income for more than 70 families in the refugee camp.

Remember the Orange Trees, Beit Hanoun, Gaza

Beit Hanoun, Gaza 2004 Mural designed and painted by and with the staff of the Tagrheed Cutltural Center for Youth. Beit Hanoun had been under total curfew for a month and under siege for much longer. The Israeli army had destroyed thousands of acres of orange groves. The director of the center said he wanted the children to remember what the orange trees looked like. Team members: Susan Greene and Eric Drooker.